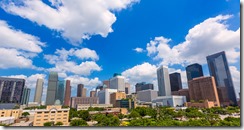 UPDATE 8/29/2017:
Due to the ongoing weather situation in Houston and its likely long-term impact, we have decided to postpone this event. Our thoughts go out to our friends in Houston and the surrounding areas who have been impacted by Hurricane Harvey.
Is your organization exploring a move to the cloud? If so, you'll be interested in this half-day event we are cohosting in Houston in September.
Along with our friends at Straight Path Solutions and Opifex Solutions, we'll walk you through the benefits of using Azure for data storage and computing. In this seminar, we'll help you to answer the following questions:
Are we ready to move to the cloud?
Which of our workloads is suitable for the cloud?
Why choose Azure over the other cloud providers?
How can I integrate on-premises data with cloud data and applications?
This seminar is ideally suited for data architects, managers, and CxOs who are cloud-curious and are interested in learning how Azure can help save time and money.
Admittance to this event is free, but does require advance registration. To reserve your seat, visit https://azurehouston2017.eventbrite.com. We look forward to seeing you there!