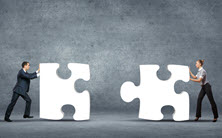 Every consulting engagement is different. In some cases, our clients already have a capable data team that needs expert advice or guidance. In others, clients prefer to have us work hands-on in parallel with their team to both complete a project and to transfer knowledge. Still other clients prefer the concierge treatment, where we handle the end-to-end workings of the project from design to delivery.
Our expert team is equipped and ready to assist with any of these approaches (or a combination of them).
Data warehouse design and implementation: You've probably got volumes of data in your organization, but what story does that data tell?  A well-designed data warehouse can help to solve many business reporting problems, including data availability, having a central source of truth, and consistency. We are deeply experienced in all aspects of data warehousing, from initial design to hands-on development. We also offer our Data Warehouse Assessment, which is a brief check-up on your existing or in-development data warehouse.
Extraction, transformation, and loading (ETL) architecture and development: Data integration remains one of the most challenging aspects of managing information.  We understand the business and technical complexities of moving and transforming data, and we are proud to offer deep expertise in data ETL. Our ETL services include end-to-end development, re-architecture of existing assets, or as-needed updates to existing ETL processes. We also offer an SSIS Enterprise Assessment to help you quickly understand the strengths, weaknesses, and risks in your SSIS environment.

Reporting and analytics: This is the "last mile" in terms of information delivery.  Even if you've got good clean data and a smooth ETL pipeline, what good is that data if your users don't have a good system for reporting and analyzing the data?  At Tyleris, we have the skills to deliver clear, easy-to-use reporting to give your users the information they need in a format they can easily understand.